Article Archives
Pay fiasco
URGENT!!!!!  APWU MEMBERS, PLEASE READ!!!! Thanks to the diligence and perseverance of our APWU representatives, the pay fiasco and resulting confusion has been resolved.  Employees whose pay (overtime) was not properly processed WILL  be able to get a salary advance.

Contract Update
The Union and the Postal Service have agreed to extend negotiations until December 7, 2018. No further information is currently available.
APWU National Convention
The Long Island NY Area Local was represented at the APWU National Convention by the delegates elected by our membership: Ron Peebles, Mike Puterio, Clif Johnson, and Rich Abromavitch.
The convention was honored with speakers from various areas of the labor movement, from sister locals, and the AFL-CIO. It was also noteworthy in that this year marked the 50th Anniversary of the Memphis Sanitation Workers strike. This historic strike, known as the "I am a man" strike, came at the height of Civil Rights Movement of the 1960's. It is also during this strike that Dr. Martin Luther King Jr was assassinated. The delegation was honored to have speakers who were at the heart of the strike.
It was an honor to hear these men speak of the horrific conditions in which they worked, of the sacrifice they made, and of the support of the Union movement during those difficult times.
Perry Gershon at the Union Hall
Democratic Candidate for the First Congressional District Perry Gershon has been endorsed by the New York State AFL-CIO. Mr. Gershon made this announcement at the Thomas Hartos Union Hall, home of the Long Island NY Area Local, APWU. The Long Island NY Area Local was proud to be the site of this announcement.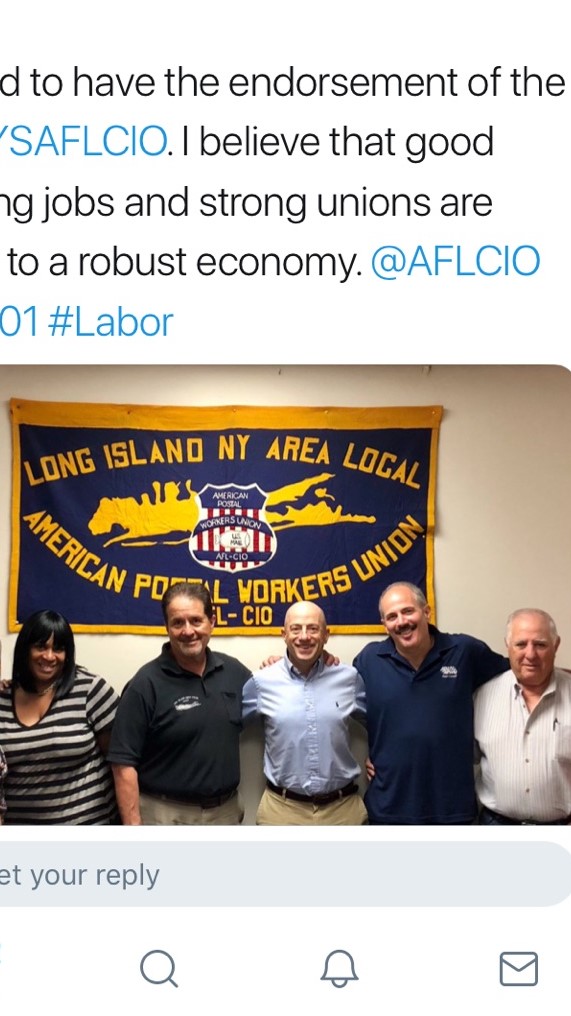 Left to right: Area Representative Angela Bennett, President Peter Furgiuele, Perry Gershon, National Business Agent Peter Coradi, Long Island NY Area Local Secretry Rich Golini. Not pictured: Local Executive Vice President Michelle Nadeau.
Final COLA of 2015 Contract
Seventh and Final COLA under the 2015 Contract Agreement Announced WEB NEWS ARTICLE #:  78-2018 08/10/2018 - In accordance with the 2015-2018 APWU/USPS Collective Bargaining Agreement (union contract), career employees represented by the APWU will receive a 31 cent per hour cost-of-living adjustment (COLA), effective September 1, 2018.

Local Dues Increase
General Membership Overwhelmingly Votes to Increase Local Dues At the February 25, 2018 General Membership meeting, the members present voted overwhelmingly to increase the Local union dues.

APWU! APWU! APWU PREVAILS!!
APWU prevails again!!! The excessing event we have been under since last June has been lifted!!! Thanks to the tireless efforts and extraordinary work of our National and Regional officers, we are no longer under an Article 12 freeze.  Congratulations and thanks go out to all of our officers who have made this possible.

Take Action! Your Retirement and Job at Stake!!
APWU members made 5,000 calls during our call-in Day of Action to fight the House Budget Proposal, but our fight is not over. This Wednesday, Oct. 4, the House of Representatives is scheduled to vote on their 2018 Budget Proposal. NOW IS THE TIME TO KEEP UP THE PRESSURE. Let your Representative know that their constituents are deeply concerned. CALL 1-844-402-1001 NOW.

URGENT ACTION ALERT!!!!
URGENT ACTION ALERT: Affordable Care Act Repeal is Back! WEB NEWS ARTICLE #:  88-2017 09/19/2017 - This week, the U.S. Senate is working on their newest attempt to repeal the Affordable Care Act (ACA). The Graham-Cassidy bill, a last-ditch effort to repeal the ACA, is gaining steam, and Senators are hoping to bring it to a vote by September 30.

Postal News Briefs
Postal  NeWs·Briefs The Postal Service reported in August a net loss of $2.1 billion for the third quarter of 2017, an increase in net loss of $573 million, compared to the same quarter last year.

For Your Future, Contact Congress
CALL 844-402-1001  to tell your Member of Congress  How You Really Feel  About the House Budget  Before the summer recess, the House Budget Committee advanced its Fiscal Year 2018  budget resolution which includes an outright assault on postal and federal workers.
Download:

Summer Action Flyer.pdf
Contract 2018 Preparation
APWU Contract 2018 "We're Fired Up! Ready to Go!     Hopefully, you have received the attached important letter from President Dimondstein about the beginning of our 2018 Contract Campaign, the Slogan contest, and the contest forms.

Fighting Back
Update on the Fight Back Against USPS Reductions in Service and Jobs WEB NEWS ARTICLE #:  70-2017 07/20/2017 - Following strong resistance from the APWU - and the National Postal Mail Handlers Union (NPMHU) - USPS management agreed to a five-month delay in implementing forced reassignments and excessing of employees out of their installations.

Long Island District does it again
On July 19, 2017 Long Island District reduced the number of identified Excessed Post Offices from the Original 88 Post Offices to 68 Post Offices, and the number of employees to be Excessed from 188 to 137. Although this is a step in the right direction the APWU will continue to press both Regional and District Management Officials that their numbers are still bogus, inflated and in violation of the APWU - USPS National Agreement.
MEMBERS PLEASE STAY ALERT - LOG ON TO OUR LOCAL WEB-SITE.....
Peter Furgiuele, President
For more information, log onto the website and go to Members Home
A small documentary from PBS
From our friends at the AFL-CIO
The Labor Wire
July 12, 2017
In the midst of a stormy political summer, the Bakery, Confectionery, Tobacco Workers and Grain Millers are staying focused on good jobs with a short documentary produced by PBS and narrated by James Earl Jones called "Made in America." Check it out. The labor movement will never rest in our fight to make the American dream real for all workers.
Postal Service attack on our jobs
MEMBERS ALERT -     MEMBERS ALERT Dear Sisters & Brothers, Posta l Management has officially notified the APWU of their intentions to excess at least 188 employees from 88 different post offices represented by our Local. To see the complete list of offices and the number of employees affected visit our Local Web-Site (see enclosed  information).

Q and A on the Bills Pending before Congress
Get the Facts Postal Reform Questions & Answers WEB NEWS ARTICLE #:  34-2017 04/10/2017 - In order to have a healthy, sustainable, public Postal Service, legislation is necessary to protect postal customers and postal workers from USPS's current financial crisis.

Washington Post Has it Wrong
WASHINGTON POST GETS IT WRONG By AGAFebruary 16, 2017Recent News14 Comments 6    Response to Washington Post Editorial Board's "The Postal Service needs more than a Band-Aid," February 13, 2017.

The Staples Dirty Deal is over!!!
We Won!! The USPS and Staples Deal is Over! WEB NEWS ARTICLE #:  01-2017 01/05/2017 - Rallying in El Cerrito, CA.  Postal management informed the APWU in writing that the "Approved Shipper" program in Staples stores will be shut down by the end of February 2017. This victory concludes the APWU's three-year struggle.

Health Plan Special Enrollment Period for Non Career
For all PSEs and non career employees!!
A special enrollment period for the USPS Health Plan is now open. We encourage any PSE who desires to enroll to review the information and process as soon as possible. The enrollment period ends June 30, 2016.
To see this information, click here.
OIG and Postal Passport Acceptance
USPS OIG Audit Report: Optimization of Passport Facilities Posted courtesy of 21st Century Postal Worker 3 1 1 Background The U.S. Postal Service accepts passport applications at over 5,000 post offices nationwide on behalf of the U.S. Department of State. The Postal Service agreed to accept passport applications for a minimum of 5 hours per day.

In today's anti-labor world by Mike Puterio
In a typical example of corporate disdain and disregard for unions, their employees, and the compesation they deserve, Cablevision has gone to new lengths to get rid of a union, and pay their employees less than they deserve.
Brooklyn technical workers voted to unionize through the CWA three years ago. In that time, Cablevision has refused to negotiate a fair contract with the CWA, arguing that by paying those workers compensation comparable to technicians in other locales, it would be unfair to non-union workers. They have also allegedly threatened to withhold raises unless the group votes to decertify the CWA, without ever negotiating a fair contract. A typical representation of the attitude of big business in today's climate.
For the whole article, click here.
Page Last Updated: Feb 03, 2019 (13:21:00)