Article Archives
Voting is your right. Know how to exercise it
Good Afternoon APWU Family,
We are 26 days away from Election Day. The link below provides the following State-specific information.
If you are not registered to vote, please consider registering and encourage others to register. Decisions are made at every level of government that affect our lives.
It is important that we vote in all local, city, state, and federal elections, not just in the presidential elections.
Feel free to share the link with family and friends.
Voter registration deadlines

Check your voter registration

Locate your polling place

Vote by mail

Early voting locations

Locate a drop box

Track your ballot application
Power concedes nothing without a demand. It never did and it never will.- Frederick Douglass
Stay safe and be well.
Tiffany Foster
Northeast Region Coordinator
APWU, AFL-CIO
APWU Scholarships
Here are the forms and instructions for two scholarships offered through APWU. The first is the Long Island NY Area Local's Larry Correia Scholarship, the second is the Accident Benefit Association, APWU Hartos, Toches and Johnson Scholarship. Have your High School student apply now!
John Emmel Arrangements
It is with great sorrow that we announce the passing of a long-time union leader, working for the Long Island NY Area Local in numerous capacities, including Area Representative and Clerk Craft Director, John Emmel. Below are the arrangements for our departed Brother.
Local Nomination Results 2022
Local nominations for officers was held at the January 9, 2022 General Membership meeting. The results of those nominations:
President - Peter Furgiuele (unopposed)
Vice President - Michelle Nadeau (unopposed)
Secretary-Treasurer - Mike Puterio (unopposed)
Executive Secretary - Richard Golini (unopposed)
Clerk Craft Director - Ron Peebles (unopposed)
Area Representatives:
Nassau South - Allison Diamond (unopposed)
Nassau North - Tonya Green (unopposed)
Nassau Central - Clifton Johnson (unopposed)
Suffolk East End - No nomination
Suffolk South - Lisa Drummond (unopposed)
Suffolk Central - Deborah Alanis (unopposed)
Suffolk North - Kevin Ryan (unopposed)
Maintenance Craft Director - Robert Zamora (unopposed)
Sargeant at Arms - Stephanie Johnson (unopposed)
Congratulations to all officers. The official start of the new terms is April 1, 2022.
Covid Return to Work Guidelines
Below are the current return to work guidelines for the Postal Service. Note that these guidelines were adopted unilaterally by the Postal Service, without input from the Union. For more information, questions, or help, contact your Area Representative.
EFEL Update
American Rescue Plan Act: update on Emergency
Federal Employee Leave (EFEL)

Multiple questions were submitted to the Industrial Relations Department regarding the recently
passed American Rescue Plan Act of 2021 (ARPA). As part of the bill, funding for Emergency Federal
Employ­ee Leave (EFEL) was appropriated. The APWU is monitoring all developments regarding
EFEL and will continue to share information as it is received.
The Office of Personnel Management (OPM) is responsible for administering the fund and
issuing guidelines on this new leave. We will not know how this leave will be implemented
government-wide un­til OPM issues the regulations and guidelines.
However, this is what is known:
• All postal employees, career or non-career, quali­fy for EFEL
• $570,000,000 has been allotted for payment of EFEL government-wide.
• Employees can utilize up to 600 hours of EFEL in total.
• The law allows these 600 hours to be used through September 30, 2021 or until the fund is
deplet­ed-whichever comes first.
Employees can utilize this leave if unable to work due to the following COVID-19 related reasons:
1. Subject to a federal, state, or local quarantine or isolation order related to COVID-19.
2. Has been advised by a health care provider to self-quarantine due to concerns
related to COVID-19.
3. Caring for an individual who is subject to such an order as in (1) or has been so advised as in
(2).
l. Experiencing COVID-19 symptoms and seeking a medical diagnosis.
;_ Caring for the employee's son or daughter if the school or place of care of the son or daughter
has been closed, requires or makes optional a virtual learning instruction model, requires or makes
op­tional a hybrid of in-person and virtual learning instruction models, or if the child-care
provider of the son or daughter is unavailable, due to COVID-19 precautions.
. Experiencing any other substantially similar con­dition.
. Caring for a family member with a mental or physical disability or who is 55 years of
age or older and incapable of self-care, without regard to whether another individual other than the ployee is available to care for such family member, if the place of care for such family mem is closed or the direct care provider is unavailable due to COVID-19.
8. Obtaining immunization (vaccination) relate COVID-19 or is recovering from any injury, ability,
illness, or condition related to such immunization.
Pay is at the employee's normal rate of hourly pay up to a maximum of $2,800 per pay period.
NTFT, PTF, PTR, and PSEs weekly hours paid be based upon the average numbers the employee
worked the 26-pay periods prior to the leave be taken up to a maximum of 40 hours a week.
Employees will not earn credit towards retirement, retirement contributions, contribute
to TSP or receive TSP matching funds on hours paid under the EFEL.
To take this leave, employees should submit a Form 3971 and indicate they are requesting EFEL
on the form. Employees must identify which of 8 qualifying conditions they qualify under for leave. Postal management is to code the leave un TACS code 086-21. The Postal Service informed APWU that this code was made available in TACS on March 17.
Management is taking the position that qualify reason number 1 does not apply to postal employees as
they are not subject to quarantine/isolation ordes related to COVID-19. Also, there has not been "
other substantially similar condition" identified this time that would qualify under number 6.
On March 18, the Postal Service informed President Dimondstein that they are awaiting further clarification from OPM on the implementation, documen tion, and other items related to the usage of EFEL.
OPM has instructed all government agencies, including the Postal Service, not to issue their own
official permanent policies until the OPM-issued guidance is released.
It is anticipated that the OPM guidance will be released in the next week or two. At that point, we will
share further information with the members.
Mandatory Stand Up Talk 12/16/20
Mandatory Stand-Up Talk Dec. 16, 2020 Face covering and mask update The requirement for Postal Service employees to use face coverings or masks continues when social  distancing of six (6) feet cannot be maintained in public, or in public-facing settings when  required by state or local orders or directives.

From OPM Services
OPM.GOV Season's greetings from OPM Retirement Services. As we welcome in 2021, the following announcements are provided: Cost of Living Adjustment (COLA) Civil Service Retirement System (CSRS) and eligible Federal Employees Retirement System (FERS) retirees and survivors will be receiving a COLA effective December 1, 2020.

Penalty Overtime Exclusion Period
The penalty exclusion period for the 2020 Christmas Period is PP25-20 week 2 through PP 1-21 week 1, November 28, 2020 through December 25, 2020.

Mandatory Stand Up Talk
Mandatory Stand-Up Talk   Nov. 13, 2020   Protecting everyone's safety and wellness   Throughout the coronavirus pandemic — even as new "hot spots" emerge  around the nation and new cases are reported — the Postal Service has  continued to deliver for America. We are a lifeline for millions of people.

Local Food Collection
A special thank you to the offices that donated food to re-supply our local food pantrys. A special thank you to Area Representative Rich Abramovitch, who organized and picked up the food and brought it to local pantrys.
Food Donations Sought! Please Read
From Area Representative Rich Abromavitch:
Food donation
Good day members,
As we all deal with a situation that many of us never thought we would have to, it is important to remember that there are many people on Long Island who are less fortunate and are struggling just to put food on the table for their families. It is in that spirit that I would ask you and the other APWU members in your office to put together a maximum of two bags of non-perishable items that could be donated to local food pantries. As many of you know, we collect these items at our monthly membership meeting, but since we've temporarily suspended these in person meetings, this is a way to keep our charitable efforts going.
If your office would like to donate, simply text me at 631-926-3510 with your name and office. Please have only one person from each office text me. I will be picking up and delivering the items the week of 5/4/20. Being mindful of social distancing, I will arrange with the contact person the best way to collect the items from the office.
Thank you for your efforts during this pandemic, you are essential and you keep the country going.
Act NOW
Today is the day to call your senators to support the USPS Fairness Act. Will you call?
Dial 844-402-1001 or click here to be connected
Tell them to cosponsor S. 2965, the USPS Fairness Act. The Act would remove the burdensome pre-funding mandate that Congress imposed back in 2006. That would free up funding to invest in the service and put it back on the road to sustainability as a PUBLIC Postal Service.
I know you believe the US Postal Service should be a place that continues to provide good jobs and good service. I am asking you to take only a few minutes and make a call today. Don't forget, you can call twice to reach both of your senators.
Dial 844-402-1001 or click here to be connected.
In union solidarity,
Judy Beard
APWU, Legislative & Political Director
1300 L Street NW, Washington, DC 20005 | www.apwu.org
APWU Ad
Please watch the APWU Holdiay Ad and sign the petition!! Let's work together to save our jobs and grow the Postal Service! Click here for the petition!!

October Announcements
October Meeting!!!
The October General membership meeting will be held at the Polish Hall on Marcy Avenue, Riverhead, on October 20 at 11 am. Please plan on attending this meeting and staying informed!!
Steward Seminar!!!!
There will be a steward seminar beginning at 830 am prior to the General Membership meeting. It is important for our stewards, especially the new stewards, to attend a seminar. It is a requirement of all stewards to attend at least one seminar and one meeting per year to maintain their stewardship.
Note that all members in good standing can attend the seminar and learn what a steward does, and how stewards perform their duties.
Important Announcement!!!
The Long Island NY Area Local are seeking members in good standing who are willing to dedicate themselves and seek to take on the duties and responsibilities of being an Area Representative. We are looking for union activisits ready and able to learn and fight for themselves and the members of this union, and lead into the future!!
For additional information on all of the above, please click here.
Wanted!!! Union Activists!!!
The Long Island NY Area Local is seeking union members who are ready to stand up and get involved in representing fellow members!! We are looking for members who are willing to stand up and work for the local and continue the excellent tradition of representing our members.
If you are interested in, and willing to get trained and enhance your skills, we are seeking candidates for the position of Area Representative. To be considered for this important position, you must be a member in good standing and not have applied for a managerial position, nor stood up as a 204 B within the last year. Some experience is preferable, but having desire, energy, and willingness to work hard can often compensate for a little lack of experience.
Contact the Local Union Hall for more information.
National Ballots are out!!
The ballots for our National Election have been mailed out. If you have not received your ballot by September 19, please click and read here. You must take action quickly in order to have your vote counted. Please do not hesitate.
Wednesday Night Membership Meeting
Note that our May General Membership meeting is Wednesday, May 22, 2019 at 7 pm. I apologize to those who have received texts and/or emails stating the meeting is Sunday. I thought I had corrected the website messaging, but apparently not yet.

Action Days
RETIREE BROTHERS & SISTERS
"DAY OF PROTEST"
MONDAY-APRIL 15,2019 3:00PM - 5:00PM
HUNTINGTON STATION POST OFFICE
888 EAST JERICHO TURNPIKE HUNTINGTON STATION, NY 11746
RETIREES ARE ONCE AGAIN BEING CALLED TO ACTION TO MAKE THE PUBLIC AWARE OF THE FACT THAT THE POSTAL SERVICE HAS NOT COST THE AMERICAN TAXPAYER ONE (1) PENNY OF TAX DOLLARS SINCE 1973.
RETIREES MUST MAKE EVERY EFFORT TO ATTEND THIS DEMOSTRATION. TWO HOURS OF YOUR TIME COULD SAVE YOUR PENSION AND BENEFITS.
LET OUR VOICES BE HEARD. WE MUST SEND A MESSAGE TO THE AMERICAN PEOPLE THAT THE POSTAL SERVICE OPERATES WITH NO TAX DOLLARS.
U.S. MAIL IS NOT FOR SALE!!!
FRATERNALLY,
LONG ISLAND AREA LOCAL #3251
RETIREE·CHAPTER #3251
BE THERE BE THERE BE THERE BE THERE
UNION BROTHERS & SISTERS "DAY OF PROTEST"
MONDAY-APRIL 15, 20193:00PM - 5:00PM HUNTINGTON STATION POST OFFICE
888 EAST JERICHO TURNPIKE HUNTINGTON STATION, NY 11746
MEMBERS ARE ONCE AGAlN BEING CALLED TO ACTION TO MAKE THE PUBLIC AWARE OF THE FACT THAT THE POSTAL SERVICE HAS NOT COST THE AMERICAN TAXPAYER ONE (1) PENNY OF TAX DOLLARS SINCE 1973.
MEMBERS MUST MAKE EVERY EFFORT TO ATTEND THIS DEMONSTRATION. TWO HOURS OF YOUR TIME COULD SAVE YOUR JOB AND BENEFITS..
LET OUR VOICES BE HEARD. WE MUST SEND A MESSAGE TO THE AMERICAN PEOPLE THAT THE POSTAL SERVICE OPERATES WITH NO TAX DOLLARS.
U.S. MAIL IS NOT FOR SALE!!!
FRATERNALLY.,
LONG ISLAND AREA LOCAL #3251
GREATER IDCKSVILLE MID-ISLAND AREA LOCAL WESTERN NASSAU AREA LOCAL
ROCKVILLE CENTRE - OCEANSIDE LOCAL
BE THERE BE THERE BE THERE BE THERE
Local Election Results
LONG ISLAND NY AREA LOCAL
AMERICAN POSTAL WORKERS UNION AFL-CIO 300 Eastern Parkway • Farmingdale, N. Y. 11735 Telephone: (516) 694-APWU
Long Island Area Local #3251
Local Election Results -2019
Local Election 2019 Committee Report
March 18, 2019.
Total Ballots Mailed Out: 945
Total Ballots Received : 486
Ballots Rejected : 2
Blank Ballots Received : 2
Total Ballots Counted: 482
Area Representative -Nassau South:
Don Papa 60
Lisa Roland 422
Percentage of Local Members who voted -51 %.
Fraternally,
Local Election Committee -2019
Candidate Articles for Area Representative, Nassau South
Donald Papa APWU Members My name is Donald Papa. I am running as the long-term incumbent of the position of Area Representative Nassau South. Began my USPS career 1974 as a clerk in Lynbrook NY Shop steward since 1980 - 2004. Held Area Representative position since winning election 1992.

Local Nomination Meeting Results
Nominations for Local Officers were held Sunday, January 13, 2019 at the Hartos Memorial Union Hall. The following officers were nominated, and were unopposed, and will serve a three year term beginning April 1, 2019:
President- Peter Furgiuele
Vice President- Michelle Nadeau
Secretary/Treasurer- Peter Lockwood
Executive Secretary- Richard Golini
Clerk Craft Director- Ronald Peebles
Maintenance Craft Director- Robert Zamora
Area Representative, Nassau North- John Emmel
Area Representative, Nassau Central- Clifton Johnson
Area Representative, Suffolk North- Kevin Ryan
Area Representative, Suffolk Central- Richard Abramovitch
Area Representative, Suffolk South- Angela Bennett
Area Representative, East End- Mike Puterio
Sergeant at Arms- Ann Marie Balsamo
The position of Area Representative, Nassau South is the only contested position. The candidates for this office are Donald Papa and Lisa Roland. More information on this election can be found in the article under Election Rules.
Congratulations to all officers elected to new terms.
LINYAL Local Election Rules-Revised #2
2019 Election Rules
The Election Committee for 2019 has met and has established the following Election Rules:
Only

bargaining unit members as

of

January

18

,

2019

,

and any

new member with an

1

1

87

(pink form) dated

prior

to January

18, 2019

s

hall be

eligible

to

vote

in the

2019

loca

l

election.
Any 1

188s

as of

January

18,

2019 in local

office will

be ineligible to vote.

Any member

not appearing

on the

Due

s

Check

Off

-

Pay Period

02-19 (January

18

,

2019) shall

be

declared ineligible

to

vote

as

will anyone

having

a Form

1187 in

the

union office after 5:00 PM

on January

18

,

2019.
All ballots shall be mailed to all

eligible

members no later

than March

1

,

2019.

All

ballot

s

will

be

color coded.

Directions accompanying the ballots must be

adhered to.

All

ballots must be returned via US Mail to PO Box 245 Old Bethpage, NY 11804 (in stamped envelope provided).
Hand

delivered ballots will not be

accepted.

Ballots

must

be

received by

10:00 AM March

18

,

2019

.
Ballots

shall only

be released to at least

two committee

members

after

10:00

AM

on March

18

,

2019.

The

Committee

will allow

for

duplicate ballots

for

those who did not

receive or

misplaced them.

Duplicate ballots

will

be identified

as

dup

l

icates on

the business reply

envelope.

Duplicate

ballots

will

be

given

to

Long

Island

NY Area

Local Pre

s

ident

Pete Furgiuele twenty at a time.

Candidates shall

be perm

i

tted to run

for only one

position.

Any candidate runn

i

ng for

office

shall not

campaign on

union time.

Articles written

by candidates

shall

be no longer than 250

words.
All articles

are to be

typed

and double

-

s

paced.

All articles

are

to

be

written

in upper and lower

case.

All articles are

to be received by the Committee no later than

COB February

8

,

2019.

Articles

are to be

sent

to

the Local

E

lection

Committee,

by

mail.

No corrections will

be made

to

articles.

Any profanity

or slanderous remarks

may be

deleted from articles

at the di

sc

retion

of

the

Election Committee.

Candidates will

be telephoned

of any

problems

with articles and given

time

to submit any changes

.

Changes

must be submitted no later than

COB

February 13,

2019. Candidates

must provide phone number.

Candidat

e

article

s

wil

l

be

posted

on

Local'

s

Officia

l

We

b

-

Sit

e

: LONGISLANDAREALOCAL.ORG
The E

le

ction Committee will

affix mailing labels to the candidate's mailings

at

a flat rate

'charge of $.175

per member

mai

I

ing

list.

If

a candidate chooses to

use their

own vo

lunt

eers

to

affix

mailing labels to mailings

(which

must

take

place

at

the Long Island

Area Local Union Hall

and at the time

and

date

of

the

Election Committee's discretion),

there

will

be a flat rate

charge of $100

per member mailing list.

At

least

two

committee

members

will be present

to supervise

the affixing

of

the mailings labels.

Candidates

will not have

access to

the union hall for the

stuffing of any

campaign mailings.

Candidates

must

submit

to the election committee how they want their names

to

appear

on

the ballots

and

on

the official

Local Web-Site.

Any candidate

who

has any question

concerning the election

may

submit

them

(in writing)

to the

Election Committee.

The E

lecti

on Committee

may modify these rules concerning

the

election process up until

February

12,

2019. All

candidates will be advised

of

any changes.

Ballots

will

be counted in the basement

of

the

Un

i

o

n

Hall

on

March

18

,

2019

starting

at 11:00

AM.

Al

I

properly returned

ballots

will

be checked

off and

counted

as

per

Local

Dues

Check

Off

(DCO) dated

January 18,

2019

/PP

02-19.

There

will

be a notice posted

on the Local Official

Web-Site requesting

that Shop Stewards

/

Members

post

any

political information

concerning Local Election 2019 on Union Bulletin

boards.
These rules have been reviewed and agreed upon by the following Committee Members: Debbie Alanis, Bay Shore, Josephine Bruck, Mille Neck, Terry Hooks, Amagansett.
LONG ISLAND NY AREA LOCAL
AMERICAN POSTAL WORKERS UNION AFL-CIO
300 Eastern Parkway • Farmingdale, N.Y. 11735 Telephone: (516) 694-APWU
LOCAL ELECTIONS 2019
THE ONLY LOCAL POSITION BEING CONTESTED IS AREA REPRESENTATIVE, NASSAU SOUTH.
YOU WILL BE RECEIVING CAMPAIGN LITERATURE FROM BOTH CANDIDATES AND FROM PEOPLE THAT ARE SUPPORTING THEM.
TO ENSURE A FAIR AND EQUITABLE ELECTION ALL CAMPAIGN LITERATURE RECEIVED MUST BE POSTED ON UNION BULLETIN BOARDS. ALL OTHER RULES AND ELECTION INFORMATION WILL BE POSTED ON OUR
LOCAL WEB-SITE - LONGISLANDAREALOCAL.ORG
BALLOTS WILL BE MAILED OUT MARCH BY MARCH 1, 2019. BALLOTS MUST BE RETURNED BY 10:00 AM, MARCH 18, 2019. ELECTION COMMITTEE WILL PICK UP BALLOTS AFTER 10:00 AM, MARCH 18, 2019.
ANY MEMBER NOT RECEIVING A BALLOT BY MARCH 7, 2019 CAN CONTACT THE UNION HALL@ 516 694-2798 FOR A DUPLICATE BALLOT!!!
PLEASE REMEMBER TO VOTE - IT'S IMPORTANT
RESPECTFULLY,
THE 2019 ELECTION COMMITTEE
Trump Report Attacks YOUR Pay
Statement by Mark Dimondstein President, American Postal Workers Union on White House Postal Task Force on the Postal Service Report For Immediate Release 12/04/2018 - If the White House Task Force on the Postal Service's report was assigned a ZIP Code it would be 00000.

National Day of Mourning
For the National Day of Mourning being observed on Wednesday, December 5, 2018, please note. First and foremost, we mourn and honor the memory of the 41st President of the United States, George H.W. Bush. Former President Bush served the country in numerous capacities during a long career, including serving in World War II as a fighter pilot.

New APWU/NALC Ad
The APWU and NALC joined together to produce an advertisement to educate the public that the US Mail is not for sale. Watch it here.
Pay fiasco
URGENT!!!!!  APWU MEMBERS, PLEASE READ!!!! Thanks to the diligence and perseverance of our APWU representatives, the pay fiasco and resulting confusion has been resolved.  Employees whose pay (overtime) was not properly processed WILL  be able to get a salary advance.

Day of Action 2018 October 8, 2018
Long Island Area Local Participates in Day of Action Members of the Long Island, NY Area Local joined with members from the NALC and Mailhandlers union to demonstrate in front of the Huntington Station Post Office on Monday, October 8, 2018. Joining a force of about 250 unionists, the message was sent out that the US MAIL IS NOT FOR SALE.

Contract Update
The Union and the Postal Service have agreed to extend negotiations until December 7, 2018. No further information is currently available.
Stop the White House Plan to Privatize the Post Office
During some office visits, and in speaking with some members, the question has come up of 'what does privatization of the Postal Service mean? How does it affect me?'  If one member has that question, probably numerous members have the same question. How do we educate our members and the public we serve.

APWU National Convention
The Long Island NY Area Local was represented at the APWU National Convention by the delegates elected by our membership: Ron Peebles, Mike Puterio, Clif Johnson, and Rich Abromavitch.
The convention was honored with speakers from various areas of the labor movement, from sister locals, and the AFL-CIO. It was also noteworthy in that this year marked the 50th Anniversary of the Memphis Sanitation Workers strike. This historic strike, known as the "I am a man" strike, came at the height of Civil Rights Movement of the 1960's. It is also during this strike that Dr. Martin Luther King Jr was assassinated. The delegation was honored to have speakers who were at the heart of the strike.
It was an honor to hear these men speak of the horrific conditions in which they worked, of the sacrifice they made, and of the support of the Union movement during those difficult times.
Perry Gershon at the Union Hall
Democratic Candidate for the First Congressional District Perry Gershon has been endorsed by the New York State AFL-CIO. Mr. Gershon made this announcement at the Thomas Hartos Union Hall, home of the Long Island NY Area Local, APWU. The Long Island NY Area Local was proud to be the site of this announcement.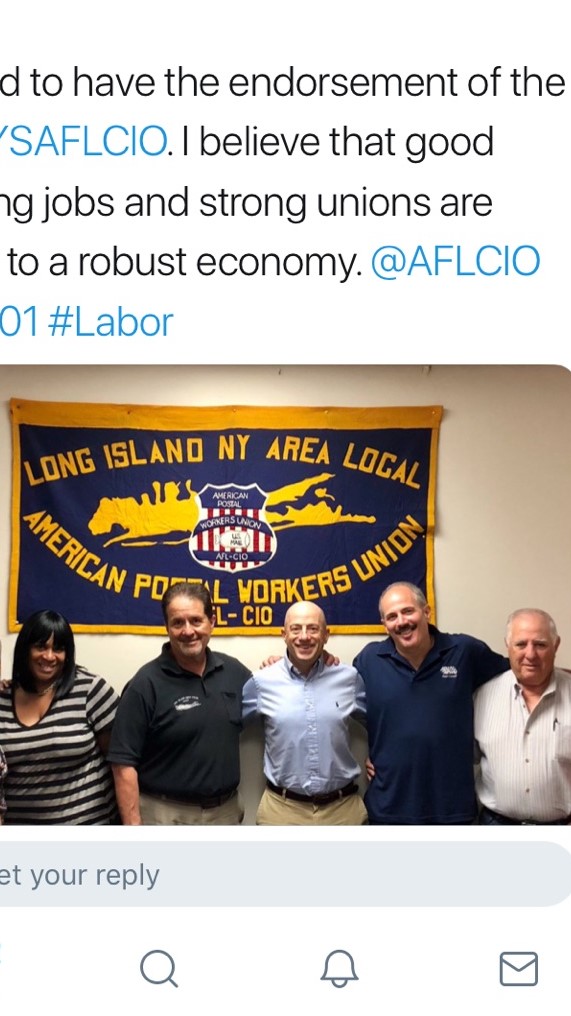 Left to right: Area Representative Angela Bennett, President Peter Furgiuele, Perry Gershon, National Business Agent Peter Coradi, Long Island NY Area Local Secretry Rich Golini. Not pictured: Local Executive Vice President Michelle Nadeau.
Final COLA of 2015 Contract
Seventh and Final COLA under the 2015 Contract Agreement Announced WEB NEWS ARTICLE #:  78-2018 08/10/2018 - In accordance with the 2015-2018 APWU/USPS Collective Bargaining Agreement (union contract), career employees represented by the APWU will receive a 31 cent per hour cost-of-living adjustment (COLA), effective September 1, 2018.

Local Dues Increase
General Membership Overwhelmingly Votes to Increase Local Dues At the February 25, 2018 General Membership meeting, the members present voted overwhelmingly to increase the Local union dues.

APWU! APWU! APWU PREVAILS!!
APWU prevails again!!! The excessing event we have been under since last June has been lifted!!! Thanks to the tireless efforts and extraordinary work of our National and Regional officers, we are no longer under an Article 12 freeze.  Congratulations and thanks go out to all of our officers who have made this possible.

Congress inching toward taking money out of your pocket
On Thursday, Oct. 5, the U.S. House of Representatives voted to advance its 2018 budget resolution. This resolution is a broad measure that designates government spending with far-reaching implications, including enormous cuts to postal and federal workers, as well as America's social safety net, while providing tax cuts for the wealthy.

Take Action! Your Retirement and Job at Stake!!
APWU members made 5,000 calls during our call-in Day of Action to fight the House Budget Proposal, but our fight is not over. This Wednesday, Oct. 4, the House of Representatives is scheduled to vote on their 2018 Budget Proposal. NOW IS THE TIME TO KEEP UP THE PRESSURE. Let your Representative know that their constituents are deeply concerned. CALL 1-844-402-1001 NOW.

URGENT ACTION ALERT!!!!
URGENT ACTION ALERT: Affordable Care Act Repeal is Back! WEB NEWS ARTICLE #:  88-2017 09/19/2017 - This week, the U.S. Senate is working on their newest attempt to repeal the Affordable Care Act (ACA). The Graham-Cassidy bill, a last-ditch effort to repeal the ACA, is gaining steam, and Senators are hoping to bring it to a vote by September 30.

Postal News Briefs
Postal  NeWs·Briefs The Postal Service reported in August a net loss of $2.1 billion for the third quarter of 2017, an increase in net loss of $573 million, compared to the same quarter last year.

For Your Future, Contact Congress
CALL 844-402-1001  to tell your Member of Congress  How You Really Feel  About the House Budget  Before the summer recess, the House Budget Committee advanced its Fiscal Year 2018  budget resolution which includes an outright assault on postal and federal workers.
Download:


Summer Action Flyer.pdf
Contract 2018 Preparation
APWU Contract 2018 "We're Fired Up! Ready to Go!     Hopefully, you have received the attached important letter from President Dimondstein about the beginning of our 2018 Contract Campaign, the Slogan contest, and the contest forms.

Fighting Back
Update on the Fight Back Against USPS Reductions in Service and Jobs WEB NEWS ARTICLE #:  70-2017 07/20/2017 - Following strong resistance from the APWU - and the National Postal Mail Handlers Union (NPMHU) - USPS management agreed to a five-month delay in implementing forced reassignments and excessing of employees out of their installations.

Long Island District does it again
On July 19, 2017 Long Island District reduced the number of identified Excessed Post Offices from the Original 88 Post Offices to 68 Post Offices, and the number of employees to be Excessed from 188 to 137. Although this is a step in the right direction the APWU will continue to press both Regional and District Management Officials that their numbers are still bogus, inflated and in violation of the APWU - USPS National Agreement.
MEMBERS PLEASE STAY ALERT - LOG ON TO OUR LOCAL WEB-SITE.....
Peter Furgiuele, President
For more information, log onto the website and go to Members Home
A small documentary from PBS
From our friends at the AFL-CIO
The Labor Wire
July 12, 2017
In the midst of a stormy political summer, the Bakery, Confectionery, Tobacco Workers and Grain Millers are staying focused on good jobs with a short documentary produced by PBS and narrated by James Earl Jones called "Made in America." Check it out. The labor movement will never rest in our fight to make the American dream real for all workers.
Postal Service attack on our jobs
MEMBERS ALERT -     MEMBERS ALERT Dear Sisters & Brothers, Posta l Management has officially notified the APWU of their intentions to excess at least 188 employees from 88 different post offices represented by our Local. To see the complete list of offices and the number of employees affected visit our Local Web-Site (see enclosed  information).

Q and A on the Bills Pending before Congress
Get the Facts Postal Reform Questions & Answers WEB NEWS ARTICLE #:  34-2017 04/10/2017 - In order to have a healthy, sustainable, public Postal Service, legislation is necessary to protect postal customers and postal workers from USPS's current financial crisis.

Washington Post Has it Wrong
WASHINGTON POST GETS IT WRONG By AGAFebruary 16, 2017Recent News14 Comments 6    Response to Washington Post Editorial Board's "The Postal Service needs more than a Band-Aid," February 13, 2017.

The Staples Dirty Deal is over!!!
We Won!! The USPS and Staples Deal is Over! WEB NEWS ARTICLE #:  01-2017 01/05/2017 - Rallying in El Cerrito, CA.  Postal management informed the APWU in writing that the "Approved Shipper" program in Staples stores will be shut down by the end of February 2017. This victory concludes the APWU's three-year struggle.

Health Plan Special Enrollment Period for Non Career
For all PSEs and non career employees!!
A special enrollment period for the USPS Health Plan is now open. We encourage any PSE who desires to enroll to review the information and process as soon as possible. The enrollment period ends June 30, 2016.
To see this information, click here.
OIG and Postal Passport Acceptance
USPS OIG Audit Report: Optimization of Passport Facilities Posted courtesy of 21st Century Postal Worker 3 1 1 Background The U.S. Postal Service accepts passport applications at over 5,000 post offices nationwide on behalf of the U.S. Department of State. The Postal Service agreed to accept passport applications for a minimum of 5 hours per day.

In today's anti-labor world by Mike Puterio
In a typical example of corporate disdain and disregard for unions, their employees, and the compesation they deserve, Cablevision has gone to new lengths to get rid of a union, and pay their employees less than they deserve.
Brooklyn technical workers voted to unionize through the CWA three years ago. In that time, Cablevision has refused to negotiate a fair contract with the CWA, arguing that by paying those workers compensation comparable to technicians in other locales, it would be unfair to non-union workers. They have also allegedly threatened to withhold raises unless the group votes to decertify the CWA, without ever negotiating a fair contract. A typical representation of the attitude of big business in today's climate.
For the whole article, click here.
Page Last Updated: Dec 29, 2022 (08:26:00)